Wundereggs
Introducing E'thing Wunder - Limited Edition!
Discover the latest addition to our WunderEggs family – E'thing Wunder. These vegan hard-boiled eggs are now paired with our exclusive take on the Everything but The Bagel seasoning, enriched with nutritious hemp hearts. Elevate your snacking game with a burst of flavor and health benefits in every bite. Enjoy your favorite WunderEggs seasoning pairing wherever you are with this limited drop!
Made 100% from plants, E'thing Wunder was inspired by our founder, Hema Reddy's, desire to create high-quality, convenient, and minimally-processed plant-based foods that are good for your body, the planet, and the chickens!
E'thing Wunder have a shelf life of up to 135 days and need to be refrigerated. To ensure the freshness of our product, we ship orders on Mondays and Tuesdays only, via FedEx Home Delivery. The transit time is 2 days. All orders received after 12 p.m. on Tuesdays will be shipped the following week.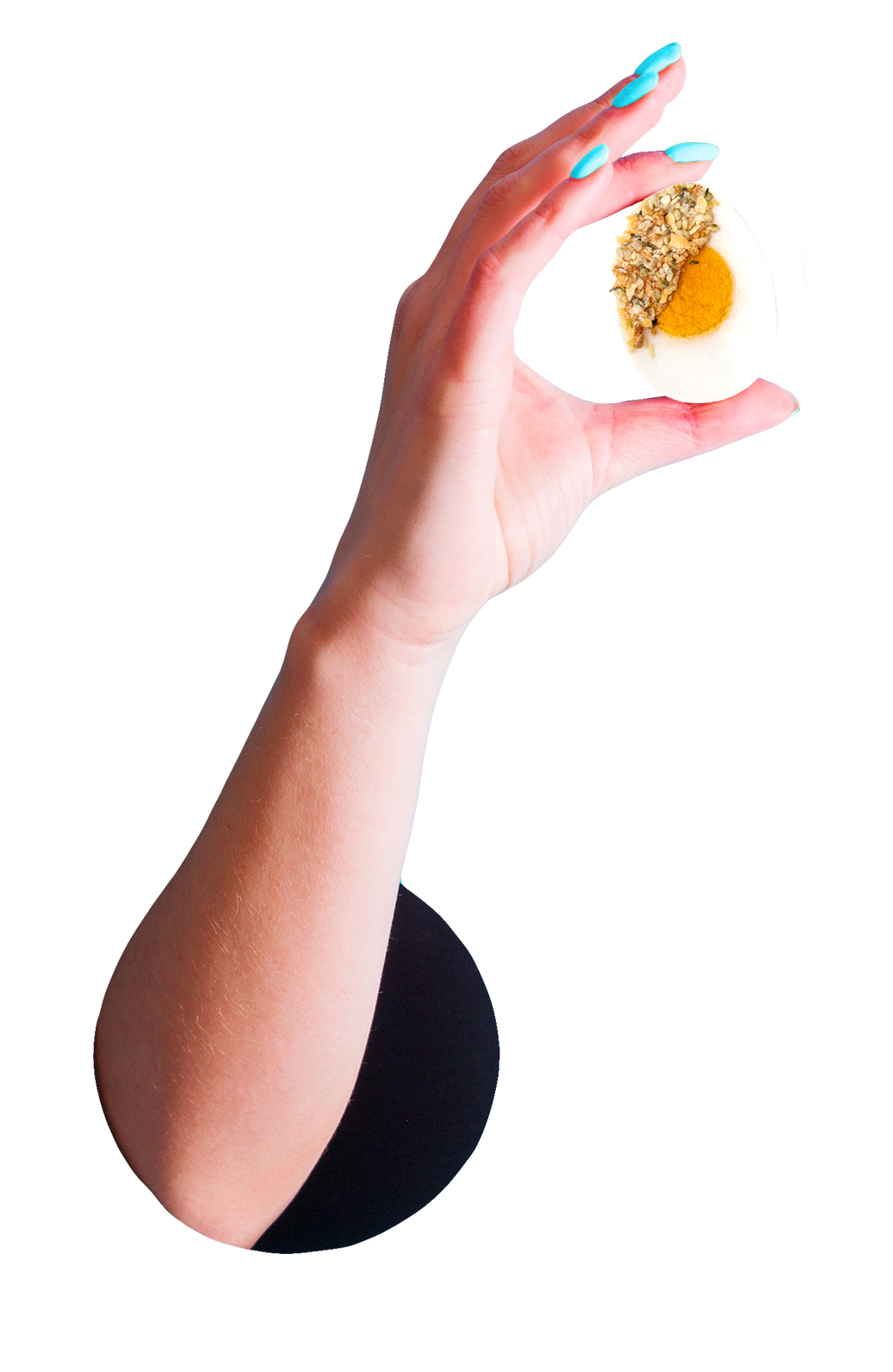 IT'S NO EGGS-AGGERATION.
You can have your egg and eat it too!
INGREDIENTS: Water, Almonds, Cashews, Coconut Milk (Coconuts, Water), Contains 2% or less of: Salt, Agar, Yeast, Konjac, Natural Flavor, Rosemary Extract, Color (Turmeric, Annatto).
Contains: Almond, Cashew, Coconut
Sachet Ingredients: Hemp Hearts, Roasted Minced Garlic, Roasted Minced Onion, Kala Namak, Black Pepper
Why Hemp Hearts?
Hemp is naturally sustainable, requiring less water than conventional crops, and showing great resilience to pests and diseases. But that's not all; hemp hearts are a nutritional powerhouse. When stacked against chia and flax seeds, they deliver double the protein, more Omegas, and only half the carbohydrates per serving. It's the perfect fusion of sustainability and nutrition in every bite of our E'thing custom blend.
We're proud to bring you a 100% plant-based egg solution that is simple, healthy, and ethically sourced. So, go ahead and enjoy that egg-shaped snack guilt-free, with more options to choose from!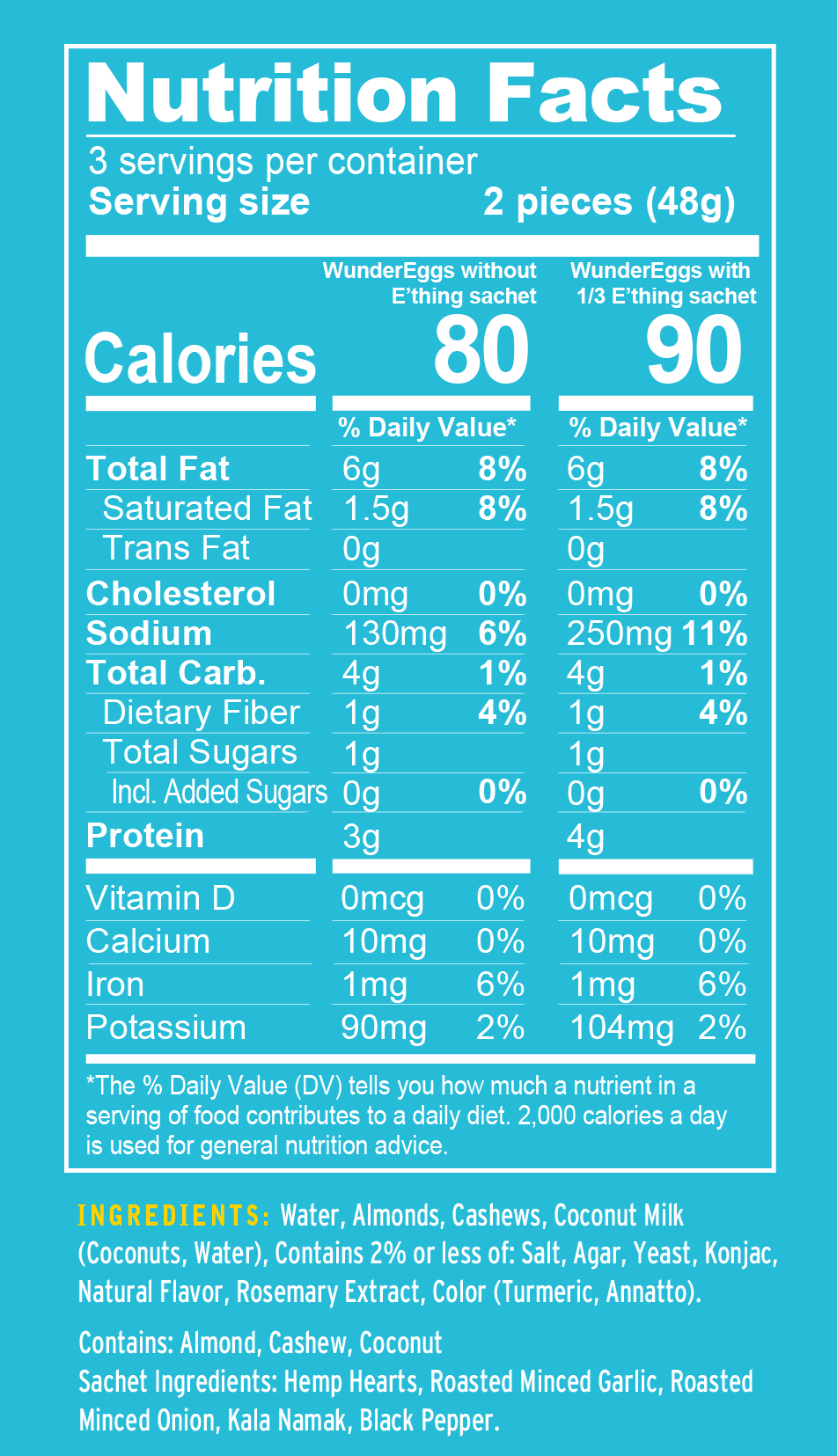 ALLERGEN FRIENDLY

Wheat

soybeans

shellfish

fish

dairy

egg

peanuts
SHIPPED REFRIGERATED FOR FRESHNESS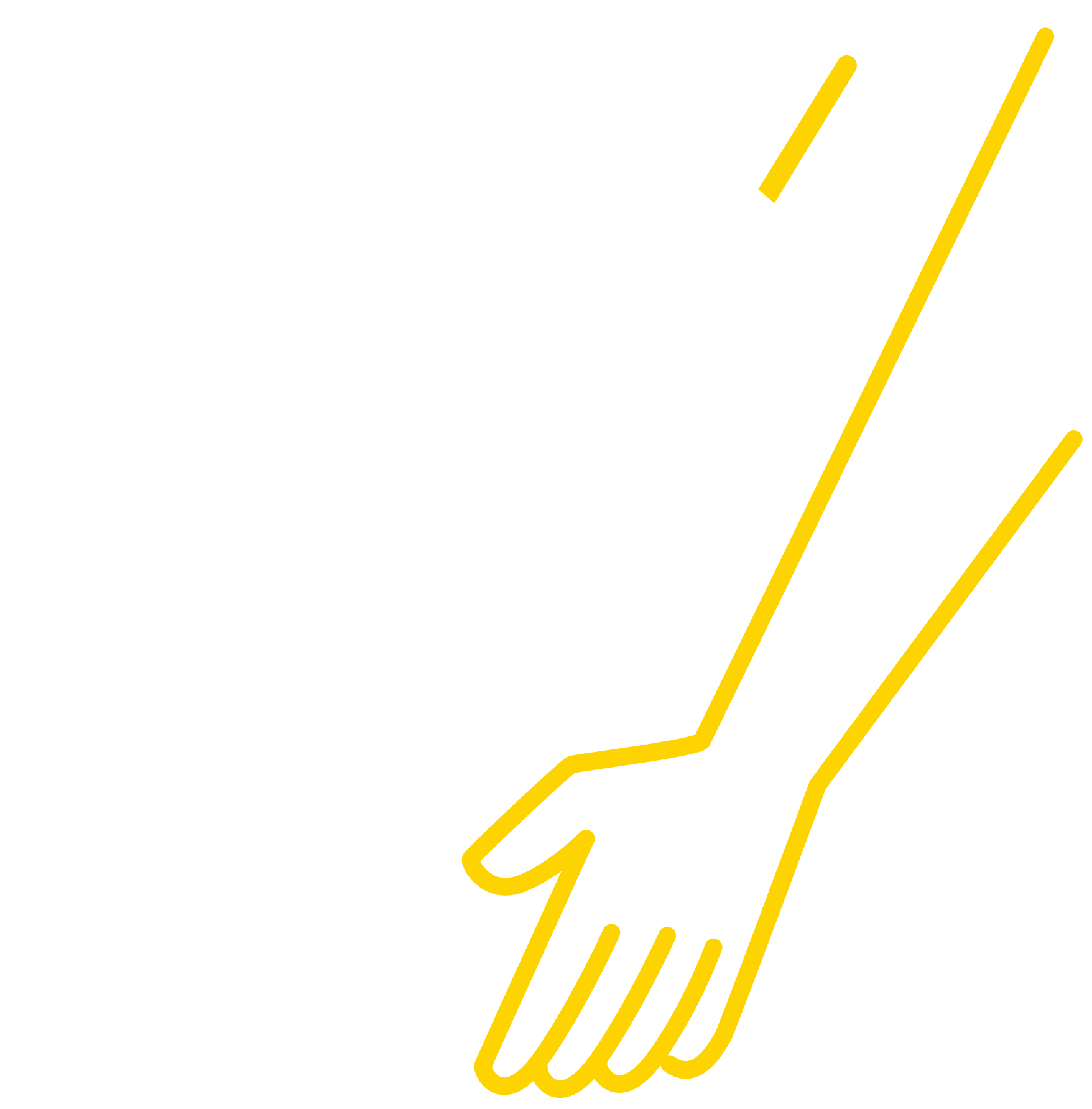 In order to maintain product quality, we ship every Monday and Tuesday with ice packs in recyclable insulated containers. Orders received after 12p.m Central Time on Tuesdays will be shipped the following week.
Ready to Eat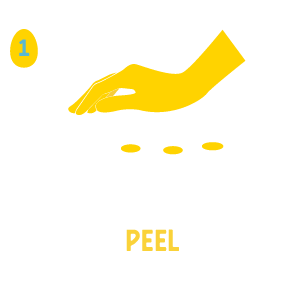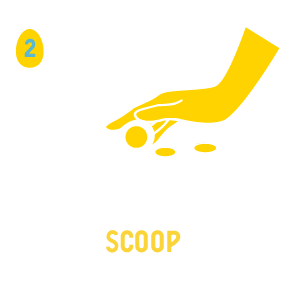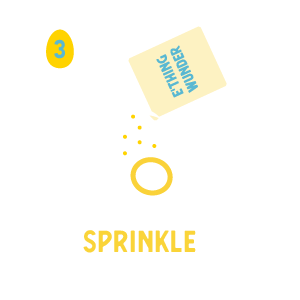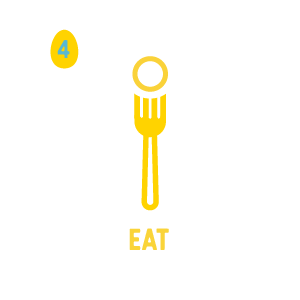 Don't just take our word for it
This is pure nostalgia.
The experience of eating these is pure nostalgia. WunderEggs taste just like hard-boiled eggs, but they are made with whole food plant-based ingredients. The texture and mouthfeel are totally mind blowing!
Perfect product to avoid factory-farmed eggs
I assumed a hard-boiled egg would be impossible to replicate vegan but Crafty Counter has created the perfect product to avoid factory-farmed eggs.
WOW
One of the things I miss about being vegan is the taste of hard boiled eggs. I wasn't sure what to expect when sampling the WunderEggs and I WAS BLOWN AWAY at how similar the taste and texture are to actual eggs.
Mindblowing!
This stuff is mindblowing! Tastes just like an egg from a chicken! Hard Boiled eggs were one thing I really missed when I went vegan so I'm going on a tear eating these to make up for lost time. So good!!!!!